Yearbook Senior Ad, final call
Attention Senior Parents!
Senior Ads will only be available until  December 20th.  We have a page count deadline, so please reserve your ad before it is impossible to order more pages!
For those who have purchased a Senior Ad, we would like to have photos and the letter sent to yearbook@mtchs.org before January 31st so the designers can do their magic.
Below are the steps to complete a yearbook ad for your senior:
Step 1: Choose the Ad Size
Half Page                    Full Page
Half Page                        Full Page
8.5″ x 5″                           8.5″ x 10″
4 Picture Limit               7 Picture Limit
1 Paragraph Limit         3 Paragraph Limit
$65                                   $96
Step 2: Paying for your Ad
Payments can either be dropped off at the front office or purchased online at the MTCHS website.  Just click on the green $ icon at the top of the page.  The ads are under the category "Yearbook."
Step 3: Designing your Ad
Send us your images and student tribute and we will use our expertise to design a beautiful layout for your senior! We prefer that you email digital photos, rather than bring physical copies, so please scan any images prior to releasing them to us.  We cannot be responsible for precious, one-of-a-kind photographs that may get lost or damaged.
Prior to publishing, you will be able to preview this ad, if desired, in order to proof it.  
Thank You!
2019-2020 Yearbook Staff
Meridian Technical Charter High School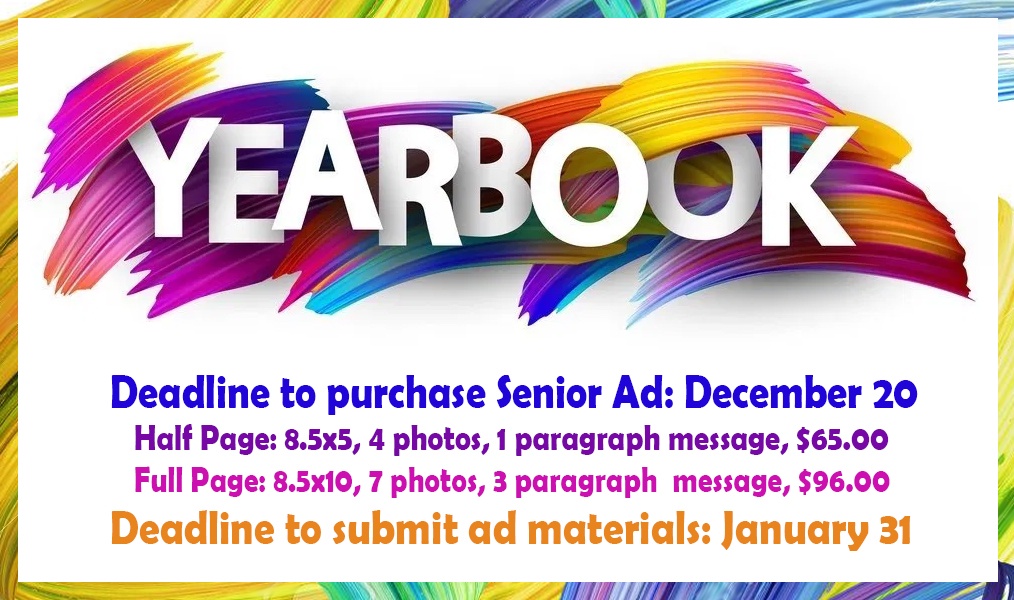 Post expires at 1:22am on Saturday February 1st, 2020
http://www.mtchs.org/wp-content/uploads/2015/05/redbarlogo-300x45.png
0
0
Mora Claflin
http://www.mtchs.org/wp-content/uploads/2015/05/redbarlogo-300x45.png
Mora Claflin
2019-12-18 15:37:20
2020-02-01 01:29:18
Yearbook Senior Ad, final call